Making friends as a senior is not always as easy as when you were younger. Social circles may change with time as friends and loved ones move away or pass on, leaving some seniors longing for companionship and connection.
Add other challenges, such as limited mobility, health issues, and reduced social opportunities, and it can become harder to make friends. Thankfully, assisted living in senior communities offers a vibrant and supportive environment that can enhance seniors' social lives.
Assisted Living Lifestyle Option
Assisted living is residential care providing support and assistance to seniors who may require help with daily activities while maintaining independence. Activities of daily living can include help with eating, bathing, using the restroom, dressing, and getting around.
In assisted living communities, residents typically have their own living spaces, such as apartments or suites, but also have access to various services and amenities, including:
Personal care services
24-hour security
Onsite staffing
Registered nurses
Concierge services
Housekeeping
Health assessments
Medication management
Transportation
Daily meals
Making Friends in Assisted Living
The primary goal of assisted living is to create a safe and supportive environment where seniors can receive the necessary assistance they need while enjoying an engaging and fulfilling lifestyle, fostering a sense of community and ultimately leading to improved overall well-being.
Creating Social Opportunities
Designed as such, assisted living communities cater to the needs and desires of seniors, providing an array of social activities and events. These communities understand the importance of social interaction in maintaining good mental and emotional health.
A robust calendar may include regularly scheduled events and activities, such as birthday celebrations, game nights, group outings, fitness classes, and hobbies. These opportunities help seniors engage with others who share similar interests and passions, ultimately developing new friendships.
Shared Spaces & Dining Experiences
Assisted living communities typically have common areas and dining facilities that encourage interaction among residents. Residents can gather in shared spaces like lounges, libraries, or gyms, providing a natural means for conversation and camaraderie.
Dining experiences, such as chef-prepared meals served restaurant-style in a spacious dining room, further promote socialization. Sitting together for meals allows seniors to engage in stimulating conversations, share experiences, and form lasting bonds. The sense of community that emerges from these shared spaces can significantly alleviate loneliness and isolation.
Supportive Staff & Programs
Assisted living communities employ dedicated and compassionate staff members who understand the importance of social connection for seniors. These professionals play an instrumental role in organizing events, facilitating social interactions, and providing emotional support.
They actively encourage residents to participate in activities and programs. The staff's involvement creates an upbeat and involved atmosphere that motivates seniors to engage and build meaningful relationships and memories with their peers.
Wellness Programs
Many assisted living communities offer a range of wellness and fitness programs tailored to seniors' needs. These individualized wellness and service plans promote physical health and social engagement.
Group exercise classes, yoga sessions, stretching, and walking clubs provide avenues to connect with others while prioritizing well-being. By participating in these programs together, seniors can support and motivate each other, leading to stronger friendships and a sense of belonging.
Community Participation
Assisted living communities often encourage connections beyond their immediate community and residents. They may collaborate with the local community, civic organizations, senior care networks, and charitable foundations.
These initiatives allow seniors to become active community members and engage with all generations, providing a sense of purpose and fulfillment. Working together on projects or sharing experiences with a wider community can be immensely rewarding and lead to forming unique friendships and a renewed sense of vitality.
Transitioning to Assisted Living
Transitioning to assisted living can be a significant life change. However, it can also create new opportunities for social connection and friendship.
Here are some ways seniors can adjust to assisted living and make friends:
Be patient and give yourself time to adjust to your new surroundings.
Remain open and approachable.
Step out of your comfort zone.
Take the initiative to introduce yourself and strike up conversations with fellow residents.
Participate in community activities and events.
Be a good listener and show genuine interest in others.
Reach out to staff members for support when needed.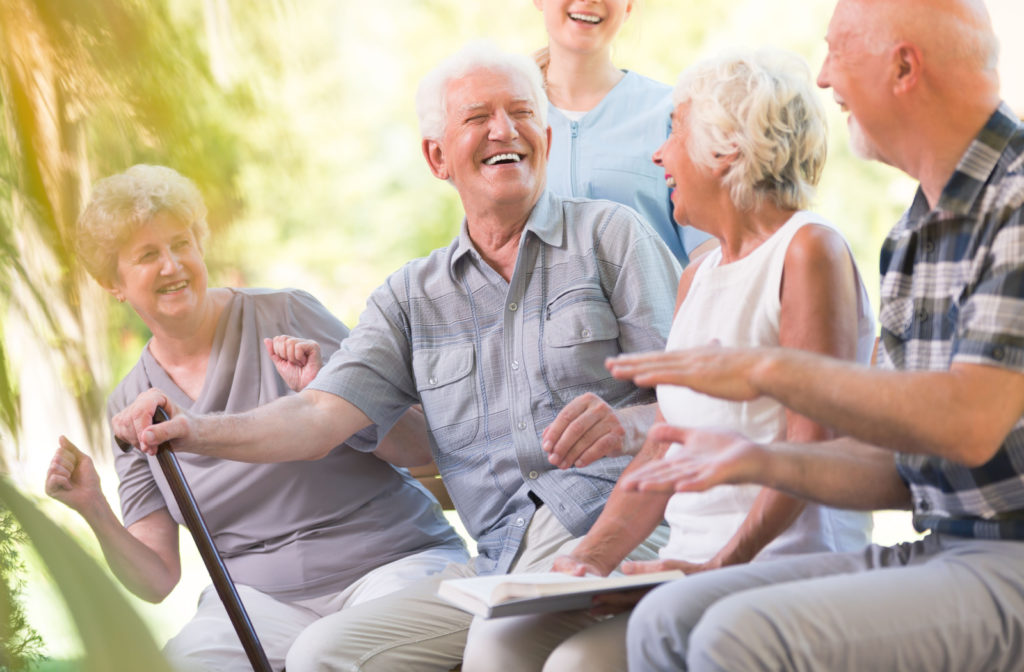 Meaningful Relationships in Assisted Living
Creating new bonds as a senior can be a fulfilling and joyful experience, and assisted living communities offer the ideal environment to facilitate such connections.
By providing a range of social activities, creating shared spaces, and employing supportive staff, these communities empower seniors to forge new friendships and cultivate a sense of belonging.
If you or a loved one is navigating a transition to assisted living, don't hesitate to contact Bentley Assisted Living at Branchville. Our assisted living community is here to help them thrive socially, mentally, and emotionally and forge meaningful friendships.